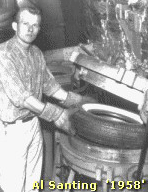 The success of Santing's OK Tire Stores have always depended upon hard work, dedication and having a knack for identifying present and future needs. "There were six tire shops in this area when we first opened in Windsor," says Al Santing. "Not one of them is left but us. That's because we recognized opportunities when we saw them. After all, if we didn't, we knew someone else would."
When Al Santing elected to strike out on his own and start a tire retreading business in the summer of 1958, he had a wife and new baby to support. But sticking to the courage of his convictions, he was convinced he could make a go of it and quit his job at an independent tire shop, purchasing the tire retreading equipment from the owner.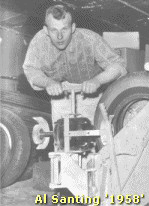 Taking over the site of a former animal hide tanning business on Adelaide Street in Chatham, he set up shop and opened in October 1958. Expectant of success, Al's hopes plummeted with the temperatures as winter set in and his tire retreading equipment malfunctioned. The resulting tires were substandard. "We lost money in the business and barely had enough to live on," recalls Al Santing. However, he persevered and the equipment was fixed, quality improved and he started to sell to garages, service stations, used car lots and retail.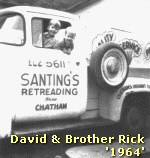 To free himself of debt, Al worked at his business during the day and at a local business during the night throughout the summer of 1959. "I don't remember getting much sleep," he says ruefully. "But I paid off my debts." Focusing on the shop exclusively afterwards, he moved the business to a new location in 1964 to provide more space for the retreading. "We needed room for more bays and customer parking." He also expanded his goods and services sold, adding full tire service including tractor and big truck tires, and purchased the latest in wheel balancing equipment.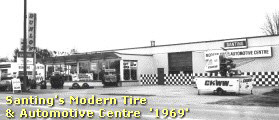 In 1969, Al purchased the Dunlop Tire store at 3181 Walker Road in Windsor, and expanded into front end alignments, brakes and custom mag wheels. A decade later, the business underwent a major expansion and incorporated a rad shop, tune-up service, custom exhaust and accessories. But, within a year, the economy bottomed out. With interest rates at more than 20 percent, Santing prudently decided to downsize, unloading some of his debt by subletting much of his space to other vendors. "We knew when it was time to scale back and that, eventually, we'd grow again."
In 1985, the business - having weathered the recession - was able to again expand its line of services. It added gas tank "Renu" servicing - the cleaning and fixing of old gas tanks for all makes and models. "Our climate is terrible for creating rust," says Al. "So it was a really necessary service to offer." Clients included retail customers, garages and body shops. Two years later, Santing's business became part of a national buying and marketing co-operative, known as "OK Tire Stores." By working together with tire store owners across Canada, he was able to buy tires and auto parts at much lower prices, and received a national identity and warranty program.
Al became very active in the consortium, eventually serving as its chair. Under his tenure, membership grew from 70 stores to its current 235 across Canada. In 1988, his own store was relocated to its current location at 3666 Walker Road to put distance between itself and EC Row. "The traffic congestion made it difficult for customers to access us," he says. The new facility was 7,000 square feet, including offices, warehousing and seven bays.
Al continued to add more services, including the Air Boss Never Go Flat Tires, geared toward backhoes and skid steer use. But much of the last decade or so has been devoted to keeping up with and making the best use of technology. In 1988, Al began to introduce Point of Service sales into the shop, and to computerize inventory control and administrative services. "We have always been concerned with ensuring we were current in terms of in store services," says son David. "By keeping abreast of technology, it has benefitted both us and our customers."
Today the shop includes eight dedicated and well trained full and part time employees, who have played an important role in the success of Santing's OK Tire Stores, and offers the following services: Radiator Shop, Exhaust Centre, Fuel Leak Solutions and Leaky Gas Tank Renu Service, Shocks and Struts, Krown Rust and Body Maintenance, Air Boss Never Go Flat Tires, Wheelbarrow and Cart Care Free Tires, and Enginewity is also a service.
Besides offering brand name performance, light truck and ATV tires by KellySpringfield, Dunlop, Kumho, Toyo, Bridgestone and Firestone, Continental, General and Pirelli. Santing's offers installations, computer balancing and proper flat repairs. Performance, stainless steel exhaust mufflers and tips, and a wide selection of all styles are hallmarks of the shop. Santing's OK Tire Store's on the premise Radiator Shop can help with radiators, power flushing, water pumps, hoses and other air conditioning needs. As well, it offers discount pricing on condensers, evaporator cores, compressors and air conditioning hoses.
Santing's OK Tire features custom mag wheels by American Racing, Cragar, Weld, Motegi, Eagle, and many more manufacturers, as well as professional installation and balancing on custom wheels, performance and light truck tires for highway and off road use. For those who want to dress up their car or light truck, the store sells a wide range of accessories such as air intakes, taillights, rear deck wings, ground effects, hood deflectors and lowering kits.
Krown Rust Protection and Body Maintenance, which Santing's OK Tire offers, will help a car's longevity by protecting it from rust and lubricating any moving parts inside all doors and other panels. Plus, it will protect electrical wiring from deteriorating and causing shorts or allowing a car to malfunction. The most popular kinds of shocks and struts are sold and serviced by Santing's, including Gabriel and Monroe, and KYB.
The shop also features the Enginewity - Engine Process and Enginewity - Transmission Service. When the heat of an engine breaks down the oil and causes build-up of varnishes and other contaminants in oil passages, causing the diminishing of engine performance. Enginewity - Engine Process - removes varnish, carbon and sludge and brings the engine back to its peak performance. It also allows early detection of inferior parts. The Enginewity - Transmission Service - removes varnish from the transmission, extending its life. Like the engine, transmissions have the same varnish and contaminants causing irregular shifting and may cause costly repairs. And by providing improved shifting, it could reduce costly major repairs.
By continuing to expand and evolve the kinds of services they offer, Santing's OK Tire Stores has developed and maintained a loyal client base. David Santing says that, in the future, he would like to expand the custom exhaust department to large diameter and stainless steel material; keep on top of tire size and custom wheel trends; further develop the rad department by broadening the types of services offered; and expand the Enginewity program further due to its great potential.
As well, the business plans to expand its use of computer technology to allow its customers to order online, book appointments, etc. This should allow us to broaden our accessibility to our clients," says David. "This won't replace the yellow pages, but we think our customers will appreciate the convenience."
Santing's OK Tire Stores has always been ahead of the technology curve. Such foresight and willingness to change has been a key to the business's own longevity: "We look at what we're doing, at where there are unmet market needs, and then decide how we can fill them," says Al. "We've changed as our customers have changed. It's worked in the past 45 years for us, and we think it will for the future."